Jim - the music
DESERT MOUNTAIN TRIBE - The Composers
I commissioned the London based rock band Desert Mountain Tribe to write the music for Jim.
I saw the band play at a Discovery 2 event, the established London showcase of new talent, run by a friend of mine and one of Discovery's founders, Alex Kerr Wilson. I thought they were a great live band. I was looking for music that could meet the brief and musicians who have what it takes to deliver it. The production soundtrack needed to speak a credible language of the late 1960s psychedelic rock era but I also wanted to find musicians who could bring their own contemporary originality, talent and style into the creative mix. It was like building a bridge between the 'now' and 'then' musical worlds of psychedelia - and the music had to reflect the 'futuristic' vision of the story's main character, Jim, an American rock star poet living in California in 1968 but who is 'ahead of his time'! (which gave us some freedom!)
Philipp and Felix and Jonty of Desert Mountain Tribe brought their magic to create a unique, stunning soundtrack for this production. I asked them to write three very diverse songs to cover the moods and timeline of the play; a song to evoke a 1960s California and 'desert drive', which they named Leave It Behind, a theatrical roller coaster performance rock song, darker in mood, which became The King (long intros and instrumentals were essential for me to mix with dialogue and the sound design) and also a timeless, classic love song, Never Stop, beautifully devised by DMT's Jonty.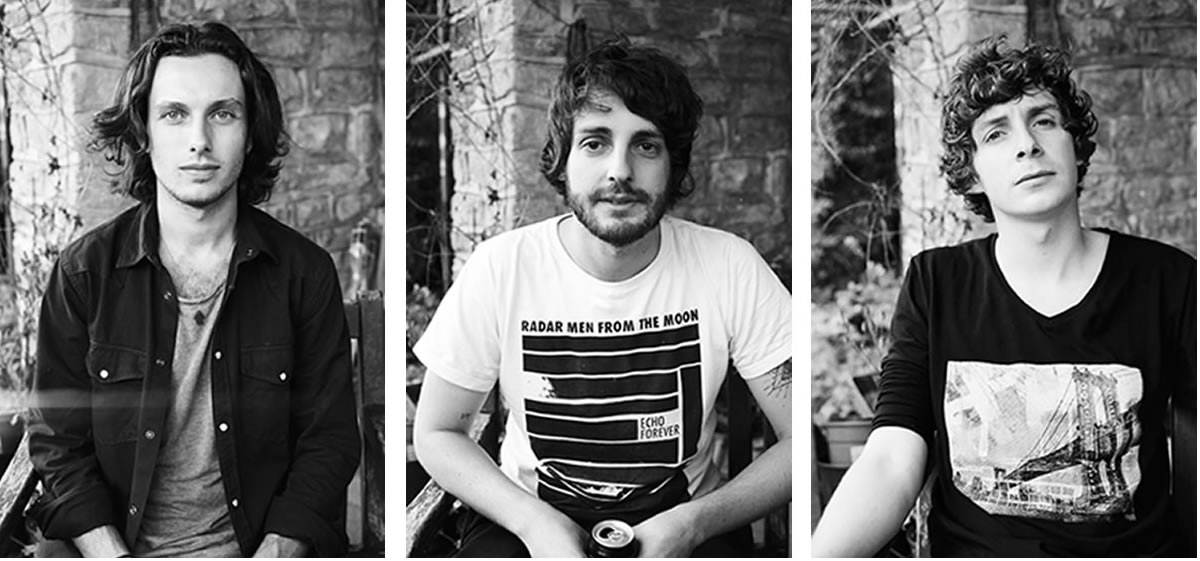 Photo by Chris Newcombe. Chris took these pictures for us at Shaken Oak Studios, August 2014
SHAKEN OAK
After a series of rehearsals, we recorded the music at Shaken Oak Studios, with Shaken's Arthur Young bringing his talent and skill as recording producer and engineer. Arthur also composed an additional instrumental track for the play, Gone To Blaises, We needed something that contrasted with the band's music and Arthur worked to create a piece that sounded like 'whimsical English pop', for the story's 1960s London nightclub scene and his track captures the era perfectly.
You never know how these creative ventures will evolve but I am really happy with the result. As this play is a story about a rock star, involving the composers at the start of the project was essential! It gave us real freedom to work organically in the production edit to create something with its own unique life and voice. I look forward to sharing the play and these original recordings of the songs with the world. I'm pleased the band have played the songs live and that they have been well received. It is always inspiring to work with people who love what they do and the musicians involved on this project have shown a great love for what they do.
Last and certainly not least, I am delighted with the sound of the mastered songs. Jolyon Thomas brought his creative midas touch to the mastering of the music before its journey out into the world and he has also a created a great, winning arrangement for the radio edit of Never Stop. Thank you to Jolyon, Thea Thomas, Ken Thomas and Amy Odell for their much appreciated help in 'writing' the final chapter of the music's story and giving it the happiest of endings.